Performer, visual artist, creator and director
She performs & exhibits her work internationally in festival & galleries like, ex studio Piero Manzoni in Milan, Reina Sofia Museum of contemporary arts in Madrid, Mom gallery in Budapest, Altofest in Napoli, MAC Museum of contemporary arts Conde Duque Madrid, Istituto Grotowskiego, Wroclaw, Poland, Nanhay gallery in Taiwan, for the main ones.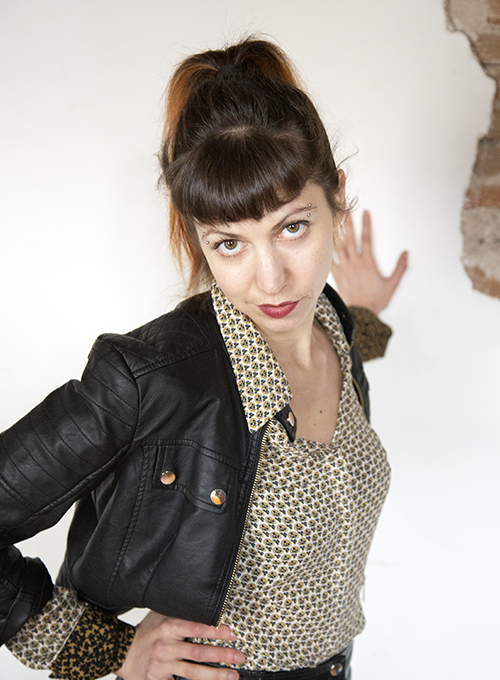 Her artistic work is developed
photography, video, theatre,
performance and installation.
She works as a performer/actress and model. She teaches in creative laboratories as guest artist in various cultural centres and festivals in Europe mixing technology, new media art and performing.
She works with video-making in cross-disciplinary works.
In recent years, she works over the topic of identity and manipulation, using artistic and technological languages in multidisciplinary projects.
She got a Bachelor degree in New Technologies of Arts at the Academy of Fine Arts of Brera in Milan where she was assistant of the course of Artistic Anatomy of Professor Pierluigi Buglioni. She got a Diploma in the Arsenale Theatre School, Lecoq Method. She has a Master degree in "Theatre and Performing Practice and Visual Culture" in Madrid, MPECV 2019 a program in collaboration with Museum of Contemporary Art Reina Sofia and Teatros del Canal.
"Proposta al pubblico esclusiva…"A night with Ramona" proposta dall'artista e performer Raffaella Menchetti sul desiderio e sulla manipolazione tecnologica."

Corriere della sera
""DOPO CINQUANT'ANNI L'EX STUDIO DI PIERO MANZONI APRE LE SUE PORTE,
PER L'OCCASIONE OSPITA LA MOSTRA PERSONALE DI RAFFAELLA MENCHETTI - VETRINA VIDEO""

Art tribune
"Raffaella Menchetti si esibirà in Identity. Il progetto performativo indaga uno dei topos che dal Novecento ad oggi ricorre nella riflessione artistica e intellettuale: la disintegrazione identitaria individuale."

Exibart
"Ma quanto il legame influenza l'estro? L'artista ha un estro piu' sviluppato, causato dalla sensibilita' verso il mondo e le immagini. La creativita' rappresenta uno sfogo di energie inconsce. E in quanto attinente ai sensi, l'immaginazione estetica e' creativa: in una libera sintesi, essa costituisce l'armonia."

undo.net
"Real Fake… nel quale le persone richiedenti asilo sono allo stesso tempo intervistati - assieme a tanti cittadini comuni - e intervistatori sul tema delle false notizie."

Il piccolo Trieste
"…proyectos de la investigación de la escena contemporanea… Real Fake propone una reflexión sobre la manipulación mediatica informativa actual."

La opinión
Collaborations and Participations
Ex studio Piero Manzoni
Milano, Italia
Museum Reina Sofia
Madrid, Spain
Mac Museum of Contemporary Art
Conde Duque Madrid, Spain
Fondazione Vincenzo Agnetti
Milano, Italy
Mom Gallery, Cultural Center
Budapest, Hungary