Direction:
Raffaella Menchetti
Raffaella Menchetti, Zony Gómez y José Miguel Neira
Light design:
Sergio García
Media arts:
Joaquín Díaz Durán
AV production:

Federeico García
Production Coordination-Recording Assistance:
Sergio Hernández Pablos
Acting movement consultant:
Riva Balleto
Sound production:
Idjabe Studio
General and Executive Production SNEO
To dig into the languages that build the collective imaginary

to create an identity from the collective

An illusion that arises from reality

To find the limit between reality and fiction

A reflection on the manipulation of desire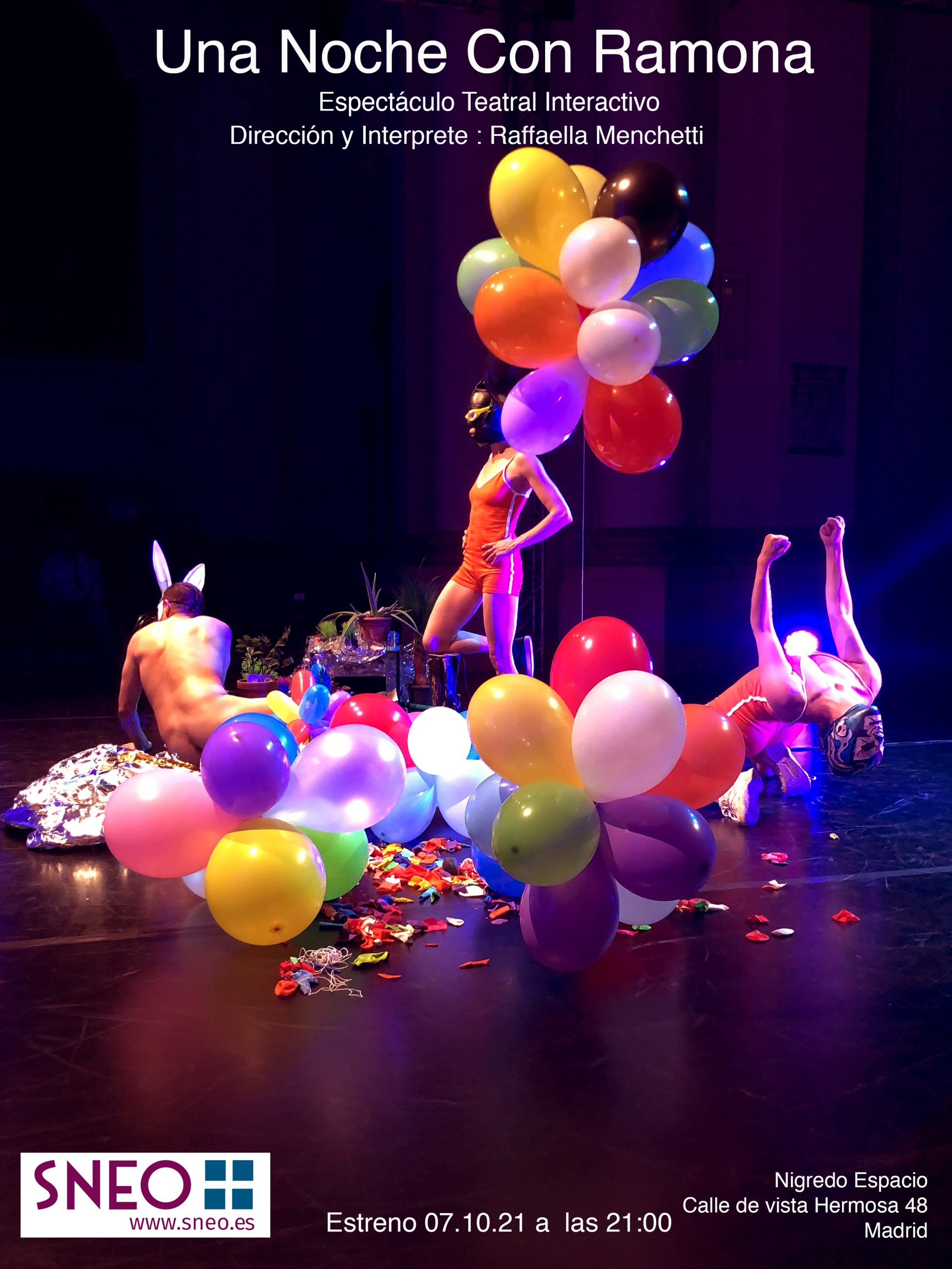 Una Noche con Ramona is an interactive theater show.
Ramona is a porn star who exists in our desires and feeds on our fantasies.
Ramona exists in everyone and it is through a certain ritual that she is embodied in those who want to experience her.
The audience has the role to imagine and, if they want, to co-create Ramona.
Ramona awakens desire in the spectators and those who experience the show enter a dreamlike world, a one-person journey in which they can participate or simply watch.
In the dramaturgy, multimedia languages are used to talk about the representation of an archetypal sexual imaginary embodied in Ramona, porn star and fake.
Ramona is an imaginary that is based on digital reality and takes shape in theatrical fiction. The research was born from some personal facts of the author, which were mixed with some dreams and gave life to an alter ego in Raffaella Menchetti's social networks.
Thus, after having uploaded a photo of Ramona on Instagram, Raffaella began to relate to people who wrote Ramona. Part of the material of the piece is the transposition of what happens in these relationships filtered by the technological medium. This is why Ramona lives in the collective imagination and is born from a social investigation that identifies itself in the act of cultural and political dynamics in relation to its technological devices.
Nigredo Espacio, Premiere, 7 of October, 2021, Madrid, Spain.
Previous presentations of work in progress:
Chiesa di Santa Maria Maddalena, creative residence supported by AMAT & Hangart Fest, 15 of May del 2021, Pesaro, Italy.
Museo Francisco Sobrino, 2022, Guadalajara, Spain.
Letter from Device 1 to Device 2
IF THE TWO DEVICES WOULD TALK TO EACH OTHER… THEN… WHAT WOULD THEY SAY?
What will be the truth: What I see? or what you receive? Which of our realities is the greatest? I have many doubts, I still think, thought of you, of us, of our relationship in the distance. You see what I see on another device with other times.
So you are a flash of me?
Or do we simply live in a common space with different realities? 
With lots of love Yours, Device 1